16 Jul
Posted By
0 Comment(s)
1098 View(s)
Each one of us waits for holidays to spend quality time with our friends and family, chatting with them and planning some trips together. Christmas is one such occasion that gives us a reason to celebrate. Here is an idea to have a great Christmas celebration. Invite all your near and dear ones to your place, have good conversations with them over a glass of wine, eat good food, and party with them. We understand that organizing an event is a huge responsibility, and there are a lot of preparations that you need to do, so we are here to make your work easy by letting you know about some of the best wines you could use to serve to your guests and some amazing wine combinations you can choose to gift to them this Christmas. Do stay with us till the end!
Silver Oak Napa Valley and Alexander Valley Cabernet Sauvignon wines form a great gift that you can buy for your special ones. With tasting notes of blueberry, toasted coconuts, ripe raspberries, and some more, we bet these bottles are worth enjoying your Christmas dinner with. Doesn't matter if you buy one of these separately, or gift it as a pack, the bottle never loses its charm. Secret tip: Wines from silver oak pair up perfectly with Godiva chocolates. If you wish to send them as a gift pack, make sure to include those.

Meiomi Pinot Noir is a wine with fruity aromas, which can be paired up with any food that you like. This wine becomes your perfect friend for all your parties by impressing your guests with every sip that they take. Whether you wish to buy it for gifting purposes or for self-use, you can get a wonderful and luxurious gift basket at as low as $89.99. Mark your celebration with the fantastic wine from Meiomi, and make your Christmas celebration memorable for you and your guests.

Wines produced by Caymus Vineyards are one of the best when it comes to quality and style. Put in a beautiful bottle, these flavourful wines can impress all the wine lovers you know. These wines pair up the best with food products like mushrooms, pasta, sushi, cheese, and seafood. If you plan to customize a Caymus basket, chocolates, cheddar blend, and summer sausages are some of the best combinations that would make it a luxury gift hamper.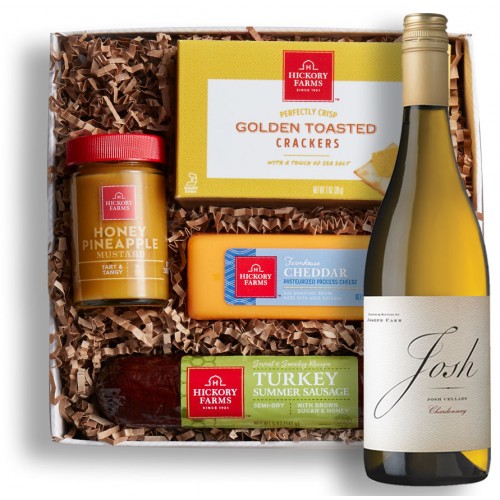 If you are looking for a wine with low acidity and medium finish, Josh Cellars Chardonnay is definitely for you. It is filled with delicious notes of citrus and vanilla, combined with fruity aromas. Pair it up with Lasagne, Olives, Mozzarella, or Burgers, and make your guests happy with these wonderful servings. Josh Cellars Chardonnay is also a great choice when it comes to choosing some special gifts for your special people.
Add some excitement to your Christmas celebration with a vintage wine from Stags' Leap. If paired with gourmet snacks like Jalapeno Cheddar Blend, Signature Beef summer sausages,and Farmhouse cheddar, Stags Leap Cabernet Sauvignon gift baskets are among the best options to buy for your near and dear ones. This basket would be easily available to you for $139.99, making the best use of the money you spend.
These are some of the best wine gift baskets that you will find online. We hope our gifting options have given you some great ideas, and you'll be celebrating this Christmas with lots of joy. Make sure to become a secret Santa for your loved ones by surprising them with these amazing Wine gifts!