16 Jun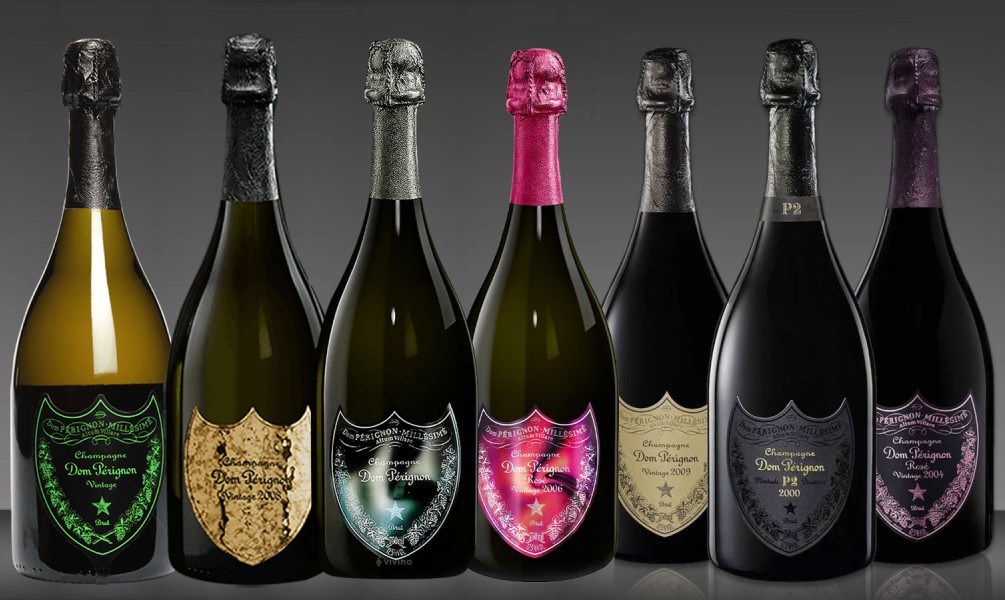 Posted By
0 Comment(s)
16760 View(s)
Dom Pérignon is a highly sought-after champagne brand that produces exceptional champagnes and is widely recognised as a worldwide icon of French sophistication and style. It goes hand in hand with indulgence and opulent celebrations, whether they be birthday parties, anniversaries, or corporate milestones.

And with the same touch of extravagance and high-end character, Dom Perignon price is more than other brands on the market. The price of a bottle of Dom Pérignon champagne is around $250 to $400. And to your surprise, until now, Dom Pérignon Rose 1959 has fetched the maximum number of dollars with a gold-plated price of $84,700.

We've written this blog to keep your effervescence-rich mind more informed about the Dom Pérignon cuvee story and to help you reflect more on your budget with the prices of different bottles of Dom Pérignon. It answers obvious queries, such as the history of Dom Pérignon, its styles of champagne, the prices of bottles of Dom Pérignon, and the factors determining the price of a bottle of Dom Pérignon.
This Dom Pérignon Blog Contains:
History Of Dom Pérignon Champagne Brand
The Moet & Chandon champagne house founded the Dom Pérignon champagne brand in 1921 with its first-ever Dom Pérignon vintage, which later led to the brand's own launch in 1936.

Dom Perignon, as a brand, drew its creative vision from Dom Pierre Perignon, often referred to as the 'Father Dom Perignon', who aimed to craft "the best wine in the world" back in the late 17th and early 18th centuries. Dom Pierre Perignon, a Benedictine monk, served as a procurator at the picturesque Abbey of Hautvillers, which now houses the Dom Perignon brand itself.

He put in every bit of his drive and revolutionized the world of champagne by shifting it from empirical methods to stringent practices of viticulture, winemaking, bottling, blending, aging, and more. The "wine of Father Pérignon" became one of the most sought-after wines in France, and this revolutionized winemaking is the foundation of the Dom Pérignon brand itself.
What Makes Bottles Of Dom Pérignon Special?
Dom Pérignon champagne is an absolute delight and the ideal companion to occasions that call for lavishness, celebration, and style. Here are the factors that have contributed to Dom Pérignon champagne's global renown:
Premium Quality: Dom Pérignon's renowned quality is the result of painstaking champagne-making strategies such as extended aging, grape selection from Grand Cru vineyards, and an attentive Chardonnay-Pinot blend, which come together to create the world's most complex, refined, and elegant sparkling wine. When one pays for a Dom Perignon, the baller quality is all that accounts for its brand value.
Unrivaled Legacy: Dom Pérignon's long history has helped him achieve a dominant position in the world of champagne. In addition, the brand's association with the Benedictine monk Dom Pérignon, known as the "Father of Champagne," contributed to its allure and aura of mystery.
Exclusivity: All Dom Pérignon champagnes are unique because they are made only in exceptional years and in limited quantities. Only 43 vintages have been released in the past 100 years, with each vintage accounting for approximately 200,000 cases, making each Dom Perignon price a hefty one.
Additionally, it has released exclusive editions that are famed and highly sought-after, including Lady Gaga Brut Limited Edition and Lady Gaga Rose Limited Edition.
Exceptional Look: Dom Pérignon bottles have an exceptional look due to their distinctive label and bottle shape.

The unique shape is derived from a wider base and a deeper punt, which are carefully done to increase the wine's contact with the lees (the yeast residue left in the bottle after secondary fermentation) and enhance its complexity and flavor.
Similar to Veuve Clicquot's yellow labels, Dom Pérignon's labels are also distinctive. Each Dom Pérignon champagne label is crafted with highest-quality materials and a crest-shaped design that armors the brand's sophistication and elegance.

Always a Vintage: Dom Pérignon's creative constraint is only making vintage champagne. That is, regardless of how challenging or risky the processes are, each DP represents a single year's harvest. There are times when vintages are not even announced, adding further to the brand's exclusivity and justifying the hefty Dom Perignon price.
A Status Symbol: Since the dawn of Dom Pérignon, it has been dipped in grandeur and regarded as the elite's first choice. This effervescent was a favorite of Winston Churchill and Marilyn Monroe and served at Prince Charles and Diana's wedding in 1981. Celebrities like Jay Z, Lady Gaga, and Lenny Kravitz have all actively endorsed it.
Preserved Heritage: Dom Perignon as a brand works meticulously to preserve all that sets it apart in the world of champagnes. With heritage and traditions passed down to generations deliberately, a sense of persistence is developed to craft each bottle of Dom Perignon not just as bubbly but as a piece of culture and history savored by connoisseurs and collectors alike. Even the former chef de cave, Richard Geoffroy, in an interview with Decanter, described his role at Dom Perignon as "pushing the envelope", signifying the act of pushing boundaries to their limits while maintaining harmony and balance. This same spirit is deeply ingrained in the current cellar master, Vincent Chaperon, who spares no effort in ensuring that the brand stands on the balance of innovation and tradition.
Are Dom Pérignon Champagnes Expensive?
Yes, Dom Pérignon champagnes are expensive and positioned as one of the most luxurious champagnes on the market. Though known for their highest quality and distinctive character, Dom Pérignon Champagnes prices put them out of reach for many customers.

However, there are plenty of high-quality Champagnes available at lesser price points, such as Veuve Clicquot, Taittinger, and Moet & Chandon, so it boils down to one's personal preferences and budget.
Reasons Why Dom Perignon Champagnes So Expensive
Dom Perignon Champagnes are expensive due to numerous reasons. Here are the most relevant reasons that make dom perignon champagne a luxury indulgence for discerning connoisseurs.
Time and Effort: Dom Perignon solely crafts vintage style champagnes with meticulous attention to viticulture, blending, and bottling.
Aging: Minimum 2-year oak barrel aging.
Rarity: Only 1,500 cases made annually, 43 vintages have been released in the past 100 years.
Exquisite Quality: Beloved by connoisseurs and collectors for its rich flavor, complexity and effervescence, making it a premium choice.
What Is The Cost Of A Bottle Of Dom Pérignon?
On average, a standard 750-ml Dom Pérignon champagne price ranges from $250 to $400 USD. Depending on a number of factors, such as availability, bottle size, vintage year, and the buyer's location, Dom bottle price can sometimes fit within the budget of a large number of customers but at times exceed even thousands of dollars.
Does The Bottle Size Influence Dom Bottle Price?
It should come as no surprise that the cost of a bottle of Dom Perignon that is bigger in size will be greater because it contains more champagne. The larger sizes of champagne bottles not only have a higher champagne content, but they can also be rare in the market due to limited production, making them even more expensive.
Here is a quick comparison of cost of a bottle of Dom Pérignon Brut champagne in different sizes:
Is There Any Influence On Dom Pérignon Price By Year?
Yes, there is a notable influence on Dom Pérignon price by year. The vintage years of bottles of Dom Pérignon will influence their respective price tags, as each vintage year has distinctive weather conditions to deal with. The more favorable the weather conditions, the higher the quality of the pinot noir and chardonnay grapes, and thus the higher the price.

For example, Dom Pérignon Brut Vintage 2002 ($250 to $400), Dom Pérignon Brut Vintage 2008 ($250 to $340 USD), and Dom Pérignon Brut Vintage 2010 ($250 to $480 USD) are priced differently since 2002 has the finest weather circumstances to cope with for champagne production, followed by 2010 and 2008.

On the other hand, some vintages may command a greater price due to their scarcity: either because of the small number of bottles produced or the high demand for them. In addition to climatic conditions, the availability of a specific vintage of Dom Pérignon on the market may affect its price.
How Does Aging Determine Dom Pérignon Price?
Dom Pérignon ages its champagnes for lengthy periods to produce a fusion of remarkable complexity and nuanced flavors. Typically, a Dom Pérignon champagne bottle is aged for a minimum of 7-9 years prior to release, whereas its P2 and P3 categories are aged for 15-20 and 25–30 years, respectively.

Each champagne bottle in the P2 and P3 categories is sold at a significantly higher price on the market because they are aged for a longer period of time, produced in smaller quantities, and are rare to find. While a Dom Pérignon champagne price ranges from $150 to $400, a P2 will cost $350-$400, and a P3 vintage will cost $400-$500, since P3 is aged longer, produced less, and is rarer than P2.
How Does One's Location Determine Dom Pérignon Price?
Dom Pérignon champagne price is also affected by buyer's location, such as taxes, import duties, shipping costs, local market demand, and currency exchange rates.

In general, countries with higher taxes and import duties, like the United States and Canada, have higher Dom Pérignon champagne price than countries with lower taxes and import duties, like France and Hong Kong. Dom Pérignon price may also be determined by the level of demand in a given market, which in turn may be affected by local financial circumstances, cultural tastes, and societal trends.

In the end, the cost of a bottle of Dom Perignon can change greatly depending on the area as well as the conditions of the market; consequently, in order to obtain the best deal, it is essential to compare costs across a variety of retailers and regions.
Which Are The Most Famous Dom Pérignon Bottles?
The most famous Dom Pérignon bottles include the Dom Pérignon brut Vintage, often considered one of the greatest Champagnes, and the Dom Pérignon Rosé, known for its elegance. The Dom Pérignon P2 (Plénitude Deuxième) releases have also gained prestige for their extended aging and complexity.
How To Serve Dom Pérignon Champagne?
Baller champagnes call for baller-style serving! It's important to know how to serve your preferred bottle of Dom Pérignon so that you or your guests can appreciate every sip. Here's what you need to do:
Chill The Bottle: In terms of wine-serving etiquette, the first step is to chill the bottle. It is recommended to serve champagne at the right temperature to boost its freshness and enhance its overall bouquet and flavors, and make sure you do not over-chill it as it will mute the overall drinking experience. The best way to serve Dom Pérignon is at 10 degrees for 2 hours.
Select Glasses: For serving Dom Perignon, the former chef de cave, Richard Geoffroy, recommends using a proper crystal stem glass. Such glasses bring out the aroma and flavor of the champagne, calling for a luxurious and unforgettable drinking experience.
Uncork The Bottle: Even if it's not Dom Pérignon, there are some rules about how to open a bottle of champagne. Hold the bottle at a 45-degree angle and gently turn the wire cage in the opposite direction of the clock. Hold the cork firmly with one hand and turn the bottle gently with the other until the cork pops out.
Serve And Have Fun: After you have popped open the bubbly, it's time to serve it. To pour Dom Perignon, gently pour it down the glasses to avoid any spillage, splashing, or overflowing of the streaming mousse, or so-called foaminess.
Food Pairing: In addition to these glasses full of indulgences, you can also choose to pair your Dom Perignon next to a hearty meal to enjoy the sipping further, as well as make your friends and family feel more special. You can choose to Buy Dom Perignon Gift Basket very conveniently and set the table with its thoughtful wine and food pairings or self-prep dishes like shellfish, lobster, salmon, cured meats, and truffles.
Frequently Asked Questions (FAQs) About Dom Pérignon
What Are the Best Dom Pérignon Vintages?
Determining the "best" Dom Pérignon vintages is subjective, as it depends on personal taste preferences. However, some highly regarded Dom Pérignon vintages include: 1990, 1995, 1996, 2002, 2004, and 2008.
It's important to keep in mind that each vintage has its own unique characteristics, and Dom Pérignon consistently produces high-quality champagnes. Tasting different vintages can be a rewarding experience to explore personal preferences.
How Long Can a Bottle of Dom Pérignon Last Unopened?
A bottle of Dom Perignon can last unopened for an extended period, typically 20 to 30 years, if stored properly. Champagne undergoes a slow aging process in the bottle, and Dom Pérignon, known for its aging potential, can develop more complexity and depth over time. However, it's essential to store the bottle in a cool, dark place with a stable temperature to maintain its quality.
Why Dom Pérignon Is The Best Champagne To Give As A Gift?
Dom Pérignon is considered the best champagne to give as a gift due to its prestigious reputation, exceptional quality, and rich history. For more detailed information, To dig more into Dom Pérignon goodness, read this blog: https://www.wineandchampagnegifts.com/blog/why-dom-perignon-a-good-gift/
What Does "Brut" Mean on a Dom Pérignon Champagne Label?
A Dom Pérignon Champagne label "Brut" refers to the level of sweetness ranging from 0–12 g/L. It indicates that the champagne is dry, with minimal residual sugar, resulting in a crisp and refreshing taste.