22 Jun
Posted By
0 Comment(s)
1154 View(s)
The wedding season is going to hit the horizon soon, and you should be making detailed notes about all of the tasks you'll have to prepare, such as planning the ceremony, selecting decorations, or even picking out a dress even if it is a simple invitation. There is real hush-hush behind the scenes of happy wedding day photographs, especially hunting wedding gift ideas for bride and groom.
Even though gift-giving is customary, it is a true expression of love, care, and admiration that goes far beyond the norm. So that you don't have to worry about finding the perfect wedding gift for a couple, we've put together the best wedding Day Gift Basket Ideas for couples to save you time, money, and effort.
Why Gift Baskets Are Perfect Wedding Gifts?
Gift Baskets are perfect wedding gift ideas for bride and groom as…
Real assortments and make captivating wedding gift ideas for bride and groom.
Look sophisticated and premium in the art of gifting and hosting.
Seems practical and one-of-a-kind.
They Can be adorned with add-ons.
Come, Enchant Wedding Bells with Enticing Wedding Gift Baskets!
Cheese and Wine Wedding Gift Baskets
These are vinous wedding Day Gift Basket Ideas for
couples crafted with cheesy inclusions to make well-paired
and delectable hampers. Cheese is often used as a good
luck charm and is believed to have remarkable properties
if included in the daily diet. For a cheese-obsessed couple,
a cheese and wine wedding gift basket is an excellent
choice for their big day.
Caymus Wine & Cheese Gift Box
Cheddar, Swiss, Mission Jack, Gouda cheese bricks with mustards, four sausages, Strawberry Bon Bons, Rosemary, and crackers by Hickory Farm.
Cabernet Sauvignon enriched Caymus Wine is then grouped with its aromatic influences and flavorful notes to make cheesy wedding gift ideas for bride and groom happen..
A red box filled with thick shreds is used as a carrier here for a couple's secured wine and cheese wedding gifts.
Nickel and Nickel Wine & Cheese Gift Box
Finger-licking Gouda, Cheddar, and Mission Jack cheese slices are loaded with crunchy cocoa dip cookies and a sausage.
Cabernet Sauvignon enriched wine by Nickel & Nickel is a classic vintage rocking this gift box.
This wedding gift for couple has its inclusions secured in a bold box carrier which is durable and good-looking.
Josh Cellars Cheese Gift Basket
Cutest of cheesy wedding Day Gift Basket Ideas for Couples.
Chardonnay-infused Josh Cellars Wine is circled with sausage, mustard mix, crackers, and a cheddar slice.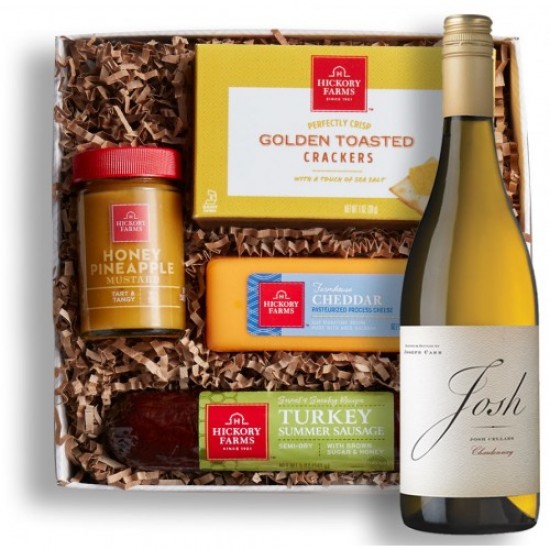 A shredded layer is carpeted on which the inclusions are placed safely and beautifully. This wedding gift for a couple gives chills to the core!
Palate Pleasing Chocolate Wedding Gift Basket
Chocolates are sweet and foiled treasures. Whatever you're planning, don't forget the cocoa rushed wedding Day Gift Basket Ideas for Couples! The chocolates we put in our assorted wedding gifts for couples are high-quality, come from reputable manufacturers, and come in flavors that suit everyone's affinity.
Congratulations Wedding Gift Basket
This Red Romance-themed wedding gift for a couple is filled with Fruit & Nut Bites, Hot Cocoa, Truffle Balls, Hazelnuts, Caramel Popcorn, Cookies, and more.
A cushiony red and green carrier is used, and a thick check ribbon is topped to flicker off elegance in this wedding gift idea for bride and groom.
Gourmet Godiva Chocolatey Assortment
In a white carrier, Godiva's well-known chocolates are stacked to make this white veil complement the wedding gift for the couple. You can get truffles, heart-shaped ganache bars, dark chocolate-covered pretzels, and more.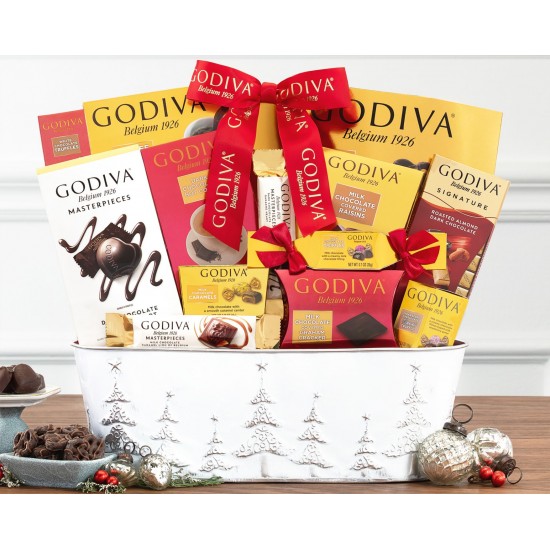 The snowy carrier gives a wedding aisle chills to the eye. A hefty Godiva imprinted ribbon tops this hamper full of scrumptiousness
Godiva 8 Pcs Chocolate Box
A chocolate gift box is all you need for a simple yet impressive wedding gift for the couple. Here are 8 pieces of chocolates. Yum!
A golden and red sparkling box is used with compartments made for all 8 choco pieces.
Raise Toasts For Newly-Weds —-
With Wine & Champagne Bottles.
Classic wine and champagne bottles are premium wedding Day Gift Basket Ideas for couples. Get one wedding gift for a couple with rich aromatic intensity, lasting taste notes, and a dazzling look that adds glitter to the day.
Veuve Clicquot Brut Yellow Label
A renowned signature Champagne. When paired with white meat, white fish, or pasta, it can add a dash of sparkle to the wedding table. Veuve Clicquot is the most loved wedding gift idea for the bride and groom.
A yellow signatured box carries this chic dripping balance and finesse.
Daou Rosé, Paso Robles
Strawberry, peach, and other fruity aromas are subdued with fruity, vibrant flavors.
A crystal delicacy is embodied in this vinous wedding gift idea for the bride and groom. Hit the gifting moment with luminous highlights and an unmatched blend
Moet & Chandon Brut Imperial
This wedding gift for a couple of champagne from Moet has a vivacity and a deep blend of Pinot Noir, Pinot Meunier, and Chardonnay grapes
It has golden highlights and a stamped-like impression on the neck area, which symbolizes a romantic amalgamation of hearts.
Lamberti Prosecco
There is perfect crispness and balance. The aroma and flavors of peach and tropical fruit make this blend the title of the finest wedding gift ideas for the bride and groom.
The prosecco comes delivered safely and timely to your mentioned doorstep.
These ideas for wedding presents for the bride and groom were some of our favourites, and we hope you find them useful. These also make perfect anniversary gift ideas as one can rejoice their long-term togetherness with a shimmering, rich, aromatic, and lengthy wine and champagne anniversary gift baskets. Check in and look at whole plethora of options, whether it is for your crush, intended one or your spouse.
Why Shop With Us?
There are a full-fledged variety of wedding Day Gift Basket Ideas for Couples to choose from- there are Wine & Champagne bottles and wedding gift baskets with inclusions of whatnot.
Genuine prices, adorable variety, and ease in placing an order with 24x7 customer support, well-organized online store, and sorted policies.
All our wedding Day Gift Basket Ideas for couples get hassle-free and speedy deliveries across America.
One-day free shipping to accelerate the processing of orders with time management.
For Any Query Regarding wedding Day Gift Basket Ideas for Couples:
Mail Us At contact@wineandchampagnegifts.com
Call/WhatsApp us at +1.202-459-8489
Directly Chat Live With Our Agent